Macho BB 5º ANNIVERSARY
Cruising Naked Thematic Parties Gay Madrid Underwear Jockstraps
Friday 27 January - 19h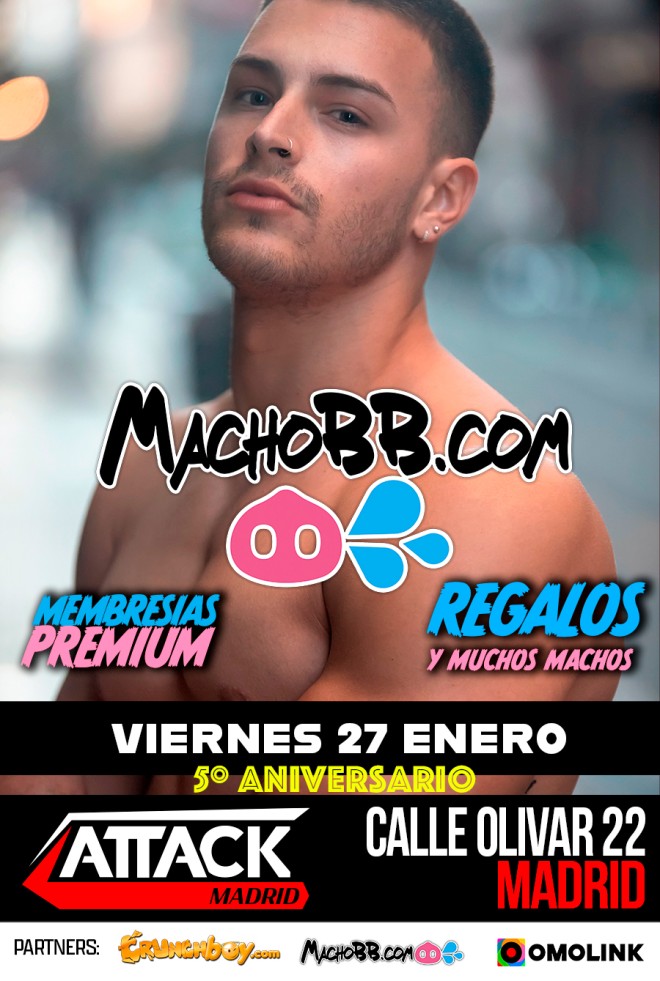 Today we celebrate the 5th anniversary of MachoBB!
Macho BB 5º ANNIVERSARY
Next Friday, January 27, MachoBB 🐽💦 party at Attack Club in Madrid. Hours: from 7:00 p.m. to 5:00 a.m. If you arrive before 00:00, the ticket price is €10, which includes activity, 2 drinks and wardrobe. If you arrive after 00:00 it is the same price, but includes activity, 1 drink and wardrobe. Dress code: underwear, jockstrap, sports shorts, swimsuit or nude. Gift Premium MachoBB memberships for everyone and raffle of gifts.
OUR SCHEDULE:
from 19h to 02h - Tuesdays
from 19h to 03h - Wednesdays and Thursdays
from 19h to 05h - Fridays and Saturdays
from 18h to 03h - Sundays
and from 7pm to 9pm, from Tuesday to Saturday: Free Entrance and fresh Aguila Beer at only 1 euro !!!!
(offer limited to the first 15 members)
FOR MEMBERS ONLY
Not a member yet? Save time: Pre-register here.
We will validate your registration on your first visit, and give you your new digital membership card.