NAKED NIGHT
Cruising Naked Gay Madrid Only Naked
Wednesday 18 October - 18:00h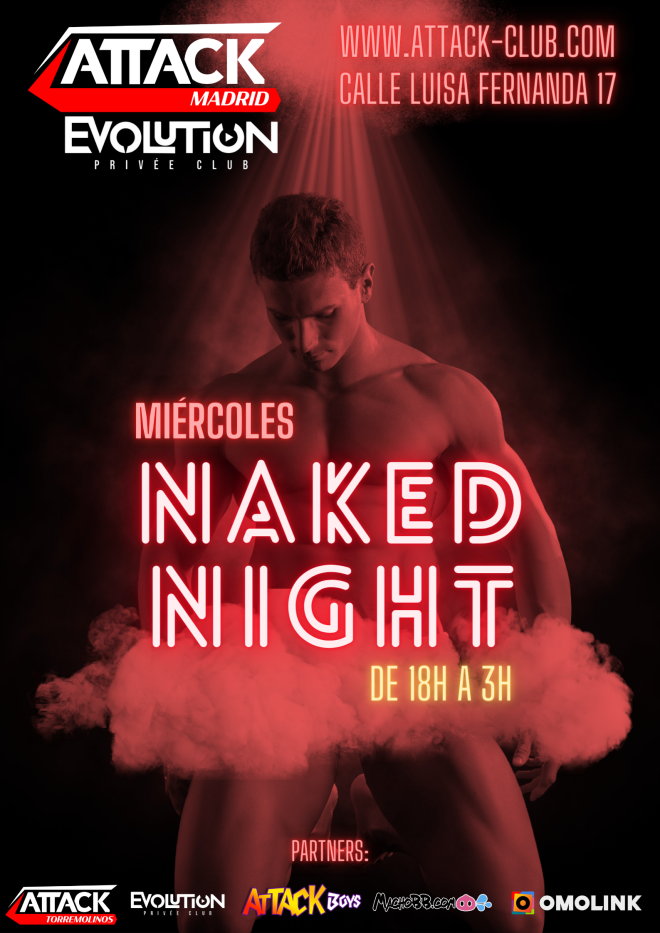 Nude Wednesday: The gay cruising afternoon in Madrid, on Wednesdays. In the only gay club with more themed, fetish, daring and fun days in Madrid. Better than going to saunas!
NAKED NIGHT
Enjoy the naked Wednesdays of the ATTACK! IN OUR NEW LOCATION. CALLE LUISA FERNANDA 17, while we finish our new room in Plaza de Tirso de Molina.
We start at 18:00h
to 3:00h
12 €
Includes: Activity, 2 drinks and wardrobe, if you arrive before 12 Includes: Activity, 1 drink and wardrobe, if you arrive after 12
Activity for members only Not a member yet? Save time: Pre-register here.
"COME SOON" OFFER: From 18h to 20h: FREE ENTRY and fresh Águila beer at 1€ (offer limited to the first 15 members to enter).
HORARIO:

Martes- de 19h a 2h
Miércoles y jueves - de 19h a 3h
Viernes y Sabados-De 21h a 6h
Domingos - De 18h a 3h
¡¡¡ y de 19h a 20h, martes, miércoles y jueves : Entrada Gratuita y Cerveza Águila fresquita a solo 1 euro !!!
(oferta limitada a los 10 primeros socios) NO SE APLICA EN VÍSPERAS DE FESTIVO, FESTIVOS NI FIESTAS ESPECIALES
SOLO PARA SOCIOS
¿Aún no eres Socio? Gana tiempo: Presincríbete aquí.
Validaremos tu inscripción en tu primera visita, y te daremos tu nuevo carnet de socio digital.