Free Code
Cruising Naked Thematic Parties Gay Torremolinos Underwear No Dress Code Jockstraps
Sunday 15 October - 21h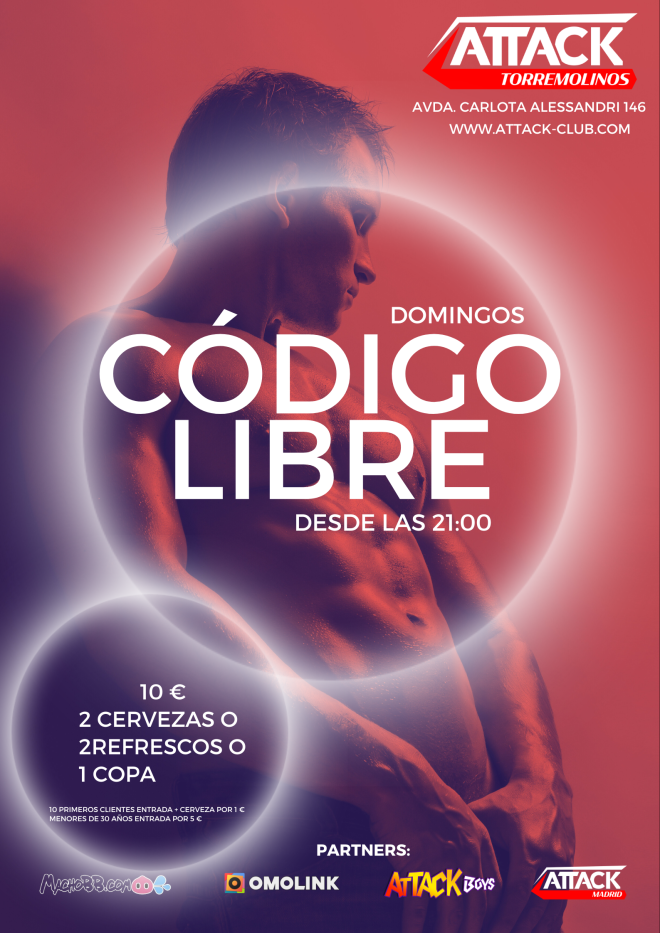 Sunday Free Code: The gay cruising afternoon in Torremolinos. In the only gay club with more themed, fetish, daring and fun days in Torremolinos.
Free Code
They come back to ATTACK on sundays to make the most of the excitement. And to make it even easier, come however you want: shirtless, in underwear, in a swimsuit, naked...
10 €
Includes: 2 beers or 2 soft drinks or 1 drink
"COME SOON" OFFER: from 21h to 22h: 1 euro ticket plus 1/5 of San Miguel to the first 10 customers to enter
Clothing Code
Free code: dress, without shirt, Swimsuit, Short, Underwear, Jockstrap, Naked... as you want!
DOMINGO 24 DE DICIEMBRE CERRADO
DOMINGO 31 DE DICIEMBRE ESPECIAL NOCHEVIEJA DE 23H A 7H
NUESTRO HORARIO:
de 22h a 3:30h - Miércoles
de 22h a 03:30h - Jueves
de 22h a 06h - Viernes y Sabados
de 21h a 3:30h - Domingos